У неділю 19-го лютого після Богослуження у Ґражді, відбулися щорічні загальні збори парафії.  Збори відкрилися молитвою під проводом о. пароха Івана Кащака та вшануванням тих хто відійшов у Вічність в минулому році.  Присутні, яких було майже 20-ро парафіян, потому прослухали і прийняли протокол з минулорічних зборів як також звіти членів парафіяльного комітету та референтів. Опісля уділення абсолюторії Парафіяльному Комітетові, присутні обрали новий комітет на 2012 рік, який залишився у тому самому складі як минулого року з додатком третього мужа довіря. Серед кількох внесків, був задум розпочати бібліотеку книг і музики (компактних дисків) у Ґражді під опікою п. Адріяна Британа якою можна буде   користуватися  в любий час.  Збори успішно завершилися молитвою.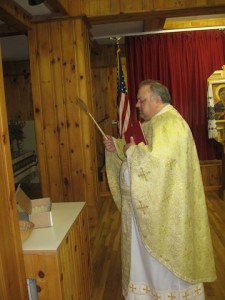 On Sunday February 19th following the Divine Liturgy, the annual parish meeting was held in Grazhda.  The meeting opened with a prayer led by Rev. Dr. Ivan Kaszczak along with a moment of silence to honor those who passed away in the last year.  The nearly 20 parishioners in attendance listened and voted to accept the minutes from last year's annual meeting and reports by the Parish Committee and subcommittee members.  After the Parish Committee was given absolution, its members were voted in once more for another yearlong term with the addition of a trustee-in-training.  Among the several new ideas presented by those in attendance was the creation of a lending library of books and CDs to be housed in Grazhda under the care of Mr. Adrian Bryttan for the use of all at their leisure.  The meeting successfully concluded with a prayer.
На фотографіях: парафіяни слухають звіт жінки довіря Богданни Титли; о. др. Іван Кащак посвячує свічки з нагоди Стрітеня Господнє.
Above photos: parishioners listen to the report of trustee Bohdanna Tytla; Rev. Dr. Ivan Kaszczak blesses candles on the occasion of  The Presentation of Our Lord.